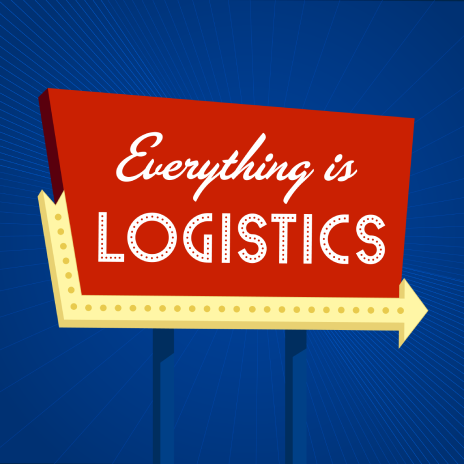 Did you know over 90% of all podcasts never make it past 10 episodes?
Or how about this–Did you know if you're podcast episode gets 50 plays, you're in the top half of all podcasters?
It seems as if there is a giant misunderstanding over what is perceived as successful in podcasting and in this special episode, we're breaking down what REAL success looks like for veteran and aspiring podcasters.
As a background and in addition to hosting the Everything is Logistics podcast, I cofounded a podcaster community in Jacksonville, Florida, alongside my spouse, Badr Milligan. We're both big support-local people so we host quarterly meetups in local establishments all over the city dubbed Jax Podcasters United to help build community among audio creators.
In addition to in-person meetups, my cofounder Badr Milligan and I are starting to host online educational sessions (like today's episode) covering the business of podcasting and how other creators can evolve with these changes.
LINKS:

Learn more about the Jax Podcasters United community here: https://jaxpodcastersunite.com/
Watch the video version of this episode here:
https://youtu.be/L7wmyi7RfBw
TOOLS:
WHAT YOU'LL LEARN:

The listener will learn about what real success in podcasting looks like, including important numbers to consider and how to define success. The episode also covers new AI tools for podcasters and includes a conversational discussion with members of the Jacksonville Podcasters Unite group. The episode also discusses strategies for monetizing podcasts, including working directly with sponsors and building an email list to showcase their work and gather leads for potential sponsors.
TIMESTAMPS:

[00:07:27] Setting and achieving podcast goals.
[00:10:16] Monetizing a podcast.
[00:15:53] Episode download statistics.
[00:20:26] Podcast Download Manipulation.
[00:24:12] Moving beyond download metrics.
[00:27:16] Podcast growth statistics.
[00:31:49] ChatGPT for podcast episodes.
[00:35:40] Marketing your podcast on social media.
[00:42:42] AI features for podcasting.
[00:49:13] Social media strategy tips.
[00:53:27] Brand sponsorships for podcasts.
[00:56:29] Podcast Success Rates.
[01:01:39] Podcast sponsorships without metrics.
[01:04:23] Leveraging word of mouth.
[01:06:56] Learning new technolo
———————————————
THANK YOU TO OUR SPONSORS!
At SPI Logistics they have industry-leading technology, systems, and back-office support to help you succeed. Learn more about SPI's freight agent program here. Make sure to let them know we sent you!
Digital Dispatch helps you speak confidently about ROI with a website built for your customers, prospects, and employees. With plans starting as low as $90/month, learn how you can take your website from good to great by visiting Digital Dispatch.
———————————————
ABOUT THE PODCAST:
Everything is Logistics is a podcast for the thinkers in freight. Follow the podcast to never miss an episode.
Follow EIL host Blythe Brumleve on social: Twitter | LinkedIn | Instagram | TikTok | YouTube