Brief overview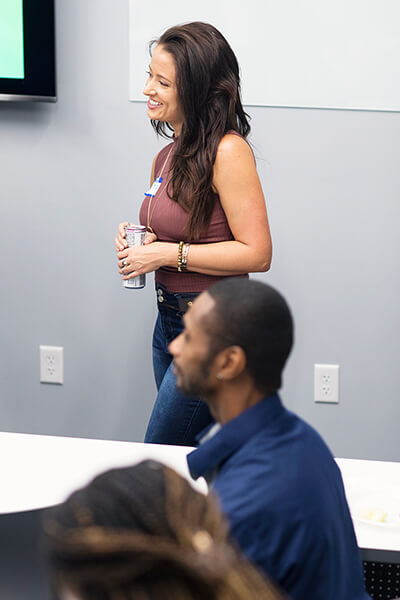 The majority of the industry now has worked from home in some capacity. Which means the majority of our workforce has access to the exact tools needed to start their own video and podcast marketing for their company.
Using the tools we already have, we're going to teach you how to start up your biggest marketing asset: A videocast. In this course we'll cover:
A detailed list of the equipment you need to start a videocast
The best (and practical) recording locations
Showing confidence on camera
Editing methods for your show
Expected costs
Hosting and publishing your show
Distribution techniques after the show is live
Benefits
Optimized learning that fits into your busy schedule
You could spend weeks researching logistics marketing training on YouTube and then HOPE you've been given some solid advice. Or you could take one of our courses that can be completed in under an hour so you can upskill quickly and implement what you've learned— faster.
Improve your workflows
Don't waste time trying to figure out how to format a Linkedin post or researching what to include in your sales landing page, use our data-driven examples and templates to help your brand convert visitors into leads and leads into customers.
Make education a priority
Remote learning is here to stay. Whether this is for you or your team, you'll be able to track individual progress and continuously upskill as new courses are added every month.
Courses taught from experience
Unlike other companies, we teach you based on years of experience. So you know what digital marketing tactics are the most effective while helping you avoid those outdated strategies that are a waste of time.
What You Get
After you complete the checkout process, you'll have instant and unlimited access to your course taught by experienced industry experts.
Each course contains a unique login where you can access the course to learn on the go and on-demand.
Mark lessons within the course as complete so you never forget where you left off.
Courses are short enough where the lessons can be watched in half a day's time or as your schedule allows.
Once you finish up the course, you're awarded a certificate of completion to prove to the boss (or yourself!) that digital wins like these are essential in saving the company a lot of time and money down the road.
All of our courses are taught based on more than a decade of logistics marketing and digital media experience. Skip the fluff and finally gain the clarity you need!
FAQ's
Who are these courses built for?
DigiU, short for Digi University, is built for the overwhelmed marketing and sales departments, executives looking to upskill, and the entrepreneurs wearing a lot of hats. You can purchase one membership for yourself or a handful of seats for your team or department. Each user will have their own ID where they can track their progress course by course—sitewide..
Where and how do I sign up?
To gain access to the courses of your preference, simply add them to your shopping cart and complete the checkout process. We don't require a credit/debit card for any free product–but the checkout process does create the required account you'll need to take and track your own course progress.
Where do I manage my account?
You'll manage your Digital Dispatch account along with your courses using the same email address.
Simply use our login page
to access your account if you're already created it.
Can I sign up more than one person?
Yes! We have added a "multiple seats" option to the checkout process and after your purchase is completed, you'll be given a code for your team to redeem during checkout and sign up as needed. This will allow your team members the flexibility to train at their own pace and record their certifications/quizzes that are personalized to their own account.
What happens after I sign up?
After you sign up, you'll have immediate access to all of the available courses. You can take them all in a day or space them out as your time allows. They're also available on-the-go should you want to get a quick lesson in during your morning coffee, a road trip, or while another device is being used.
What happens after I complete a course?
Each course is different but everyone who completes a course will receive a printable and personalized certificate showing off that they completed all of the lessons within that specific course. Additional options include testing your knowledge via quizzes, downloading our templates/guides to reference later on, and speed up your workflows. You can also retake any of the lessons within a course should you ever want a refresher on a specific topic.
Where can I send my questions and feedback?
Price
Sheri R. Hinish
Owner and Influencer at Supply Chain Queen
I highly recommend Blythe! She helped me launch my new site and integrated comms strategy, which was a tedious project I put off for YEARS! Blythe was always super organized, professional, pushed me to look around the corner in the design architecture, and on time with deliverables. Every interaction with her exemplified her great understanding of brand strategy and strategic marketing. If you're considering Blythe for a role or her services, move quickly. She's a gem and knows her stuff. The line is wrapped around the building folks
Brian Mann
Chief Executive Officer at Armstrong Transport Group
Blythe has been a tremendous powerhouse for the marketing in logistics and has been a voice of power with refreshing tactics and education. Watching her grow from our days working together to her education style of marketing has been truly inspiring to watch and listen to. My Company is proud to have had the opportunity to get direction and validation for our marketing campaign through media, video and material. Listening to her podcast and hearing her many ways on the direction of logistics is refreshing. If you want experience logistics ideas from someone with incredible knowledge, you have come to the right person.
Kristy Knichel
President & Owner of Knichel Logistics
Blythe is an absolute joy to work with. Her passion and enthusiasm for sharing her marketing/communications expertise and transportation knowledge is so refreshing – it makes her somebody who you truly can't wait to collaborate with. As another woman who has been in this industry for quite some time, I knew immediately that Blythe was a rare talent. You would be doing yourself a disservice if you passed up the opportunity to team up with Blythe. She is amazing.
Tom Augenthaler
B2B Influencer Marketing Advisor
Blythe is an incredibly gifted digital marketer and all-around go-to professional. She's a joy to work with and brings a sense of humor to any project she's involved with. She's been a critical help to me for what I could not do alone - step back and get a clear assessment of my marketing strategy, website plan, and copy. I would absolutely recommend her for your business website needs.
Al Steele
Chief Operating Officer at Hickory Transportation
Blythe is a detail-oriented manager who I never have to worry about micro managing. When something is asked or expected of her, she delivers 110%.
Rick Larkin
President at BCB Transport, LLC
Blythe has been amazing in helping us with our Digital News and with our website. Heck, She is so much more than all of that. She is not afraid to share ways that will make you better!