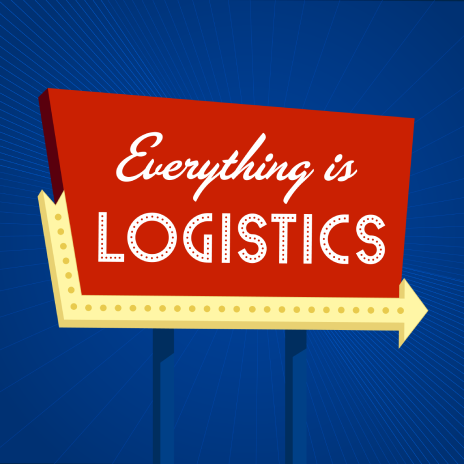 On this episode of Everything is Logistics, host Blythe Brumleve welcomes Reed Loeffel, manager of merchant acquisition and strategy at GEODIS e-Logistics, to discuss the world of e-commerce and fulfillment. Blythe and Reed reminisce about meeting at the Manifest logistics conference and discuss the infamous GEODIS puppy lounge sponsorship that garnered lots of attention.
The conversation touches on the latest trends in e-commerce, the challenges of fulfillment in a fast-paced industry, and how e-commerce companies can optimize their supply chain networks.
LINKS: 
WHAT YOU'LL LEARN:

The listener will learn about GEODIS eLogistics, a logistics company that offers end-to-end services for e-commerce brands, including packaging, fulfillment, and delivery.
The episode discusses the company's use of robotic systems, the importance of building a strong website, and the challenges of managing returns and inventory levels during COVID. The guest speaker shares their expertise in e-commerce logistics, including insights on trends, challenges, and best practices, and the potential impact of AI on jobs in the marketing industry.
TIMESTAMPS:
[00:00:25] Geodes eLogistics and e-commerce.
[00:06:13] E-commerce fulfillment and delivery.
[00:07:33] International Fulfillment Department.
[00:11:22] Robotics in e-commerce.
[00:15:54] Robotics in warehouse operations.
[00:19:02] E-logistics and customer experience.
[00:21:30] E-Logistics and Warehousing.
[00:25:14] When to reach out to 3PL.
[00:29:00] My e-Logistics Portal.
[00:33:11] Reverse logistics solutions.
[00:36:18] Returns as customer retention.
[00:40:03] Launching a new product.
[00:44:42] Opportunities for e-com brands.
[00:48:35] E-commerce logistics expertise.
[00:51:23] AI as a tool in marketing.
[00:54:21] Puppy video and show notes.
———————————————
THANK YOU TO OUR SPONSORS!
At SPI Logistics they have industry-leading technology, systems, and back-office support to help you succeed. Learn more about SPI's freight agent program here. Make sure to let them know we sent you!
Digital Dispatch helps you speak confidently about ROI with a website built for your customers, prospects, and employees. With plans starting as low as $90/month, learn how you can take your website from good to great by visiting Digital Dispatch.
———————————————

ABOUT THE PODCAST:

Everything is Logistics is a podcast for the thinkers in freight. Subscribe to our newsletter to never miss an episode.
Follow EIL host Blythe Brumleve on social: Twitter | LinkedIn| Instagram| TikTok| YouTube