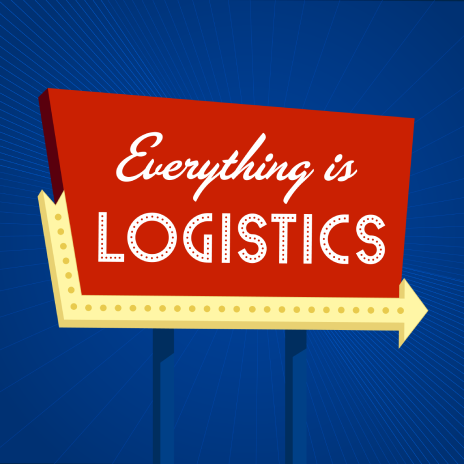 Blythe Brumleve is joined by Carly Gunby, who at the time of recording was VP of Sales Strategy and Marketing at TransFix, but has since been promoted to VP of Shipper Success and Sales–which deserves a big congrats!
On this episode of Everything is Logistics, Carly discusses the growing relationship between digital freight brokerages and traditional freight brokerages. Carly is a Jacksonville resident, a FSU graduate and Jacksonville Jaguars fan, who despite having an Art History degree, stumbled into the logistics industry. After beginning her career with inside sales, she was promoted and had the opportunity to learn more about the industry, including ocean freight, warehousing, customs brokerage, and truck brokerage. She's sharing her experience on how to help the sales and marketing teams in freight work better together.
LINKS:
WHAT YOU'LL LEARN:
The listener will learn about the evolving relationship between sales and marketing in the freight brokerage industry, as well as the experiences of a female leader in logistics and the importance of supportive leadership. The episode also discusses TransFix's freight platform, sales strategy, and investment in technology, including chat GPT and AI tools. The podcast highlights the benefits of data and transparency in the logistics industry and updates on upcoming beta tools.
TIMESTAMPS:
[00:01:17] Stumbling into logistics.
[00:03:10] Understanding logistics and supply chain.
[00:07:01] Digital freight marketplaces.
[00:10:11] Sales strategy during COVID.
[00:15:37] Freight brokerage sales strategies.
[00:16:36] Referral Relationship Strategies.
[00:20:09] Social media marketing strategies.
[00:24:07] Women in male dominated industry.
[00:26:41] Women in logistics leadership.
[00:30:08] Dedicated carrier partnerships.
[00:33:53] AI and chat GPT in sales.
[00:38:20] TrueRate Plus Tool.
[00:39:33] Cold calling and emailing.
———————————————
THANK YOU TO OUR SPONSORS!
At SPI Logistics they have industry-leading technology, systems, and back-office support to help you succeed. Learn more about SPI's freight agent program here. Make sure to let them know we sent you!
Digital Dispatch helps you speak confidently about ROI with a website built for your customers, prospects, and employees. With plans starting as low as $90/month, learn how you can take your website from good to great by visiting Digital Dispatch.
———————————————

ABOUT THE PODCAST:

Everything is Logistics is a podcast for the thinkers in freight. Follow the podcast to never miss an episode.
Follow EIL host Blythe Brumleve on social: Twitter | LinkedIn | Instagram | TikTok | YouTube