Products + Services + Resources
How We Work
The majority of logistics companies don't have the luxury of a marketing department. And if they do have someone in charge of marketing, they likely have more than one role within the company. That's where Digital Dispatch comes in to help.
Acting as your extra pair of eyes, we use our decade of logistics marketing experience to craft synergies across all of your digital media platforms.

Using our real-world experience, we provide courses, workbooks, andproducts for the freight folks who prefer to do-it-themselves.

Videos, podcasts, blogs, and resources to help you market your company, better.
Custom Service Offerings
Need more help?
You won't have a brand without great marketing and you can't measure results without a functional website.
Since 2018, Digital Dispatch has been helping logistics and trucking companies with website development and ROI-driven growth marketing tactics.
Founded by Blythe Brumleve, we thrive in the marketing trenches so you don't have to. Then we use that experience to constantly hone in on the latest tactics and technologies that bring value to your bottom line.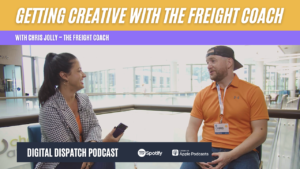 In this episode, we're sitting down with one of the more prolific creators in freight--Chris Jolly. In early 2020, he started creating content and hasn't looked back since. His podcast, Coffee with the Freight Coach, is considered one of the tops in the industry and after this interview, it's clear as day as to why. Follow Chris Jolly on Linkedin and InstagramSubscribe to Coffee with The Freight Coach podcast on Apple or Spotify.~~~~~~~~~~~~~~~~~~~~~~~~~~~Where to Find Digital Dispatch & Blythe:  Blythe's LinkedinYouTubeInstagramTikTokDigital Dispatch websiteGot something to say?Have a topic you'd like to see covered? Or a guest you want to hear on the show? Fill out the tip submission form on the Digital Dispatch website.
read more