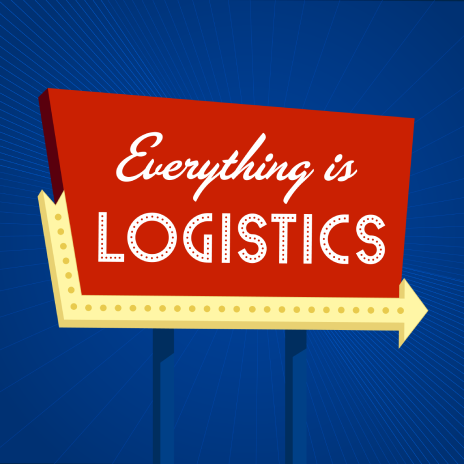 In this episode of Everything is Logistics, host Blythe Brumleve interviews Mike Lombard, owner-operator of Lombard Trucking, about the good, bad, and ugly of the trucking industry. 

Lombard shares his family's history in the business and his personal journey to becoming a driver. They discuss the challenges facing drivers in the supply chain industry, including the impact of the pandemic and perceived driver shortage talking points that lead to misinformation about the true problems in the trucking industry.



WHAT YOU'LL LEARN:
The listener will learn about challenges faced by truck drivers, the impact of AI on the industry, the importance of retention and treating drivers well, and issues related to truck parking, fraud, and division among drivers. The podcast also discusses the focus on identity politics in the information and service economy, the potential risks of AI and supply chain compromise, and the importance of finding solutions.


TIMESTAMPS:

[00:01:11] Family history and career choice.
[00:03:21] Restoring Lombard's Brand.
[00:07:31] Hair tests for CDL companies.
[00:10:11] Driver manager issues.
[00:12:17] Trucking company's diverse services.
[00:15:07] Driver Managers and Employee Retention.
[00:19:41] Driver turnover rates.
[00:21:09] Walmart's treatment of drivers.
[00:24:59] False driver shortage narrative.
[00:27:27] Life on the road.
[00:30:16] Workplace surveillance and efficiency.
[00:33:09] Paying drivers for their time.
[00:35:57] Inefficiency of loading docks.
[00:39:30] ATA's control over the industry.
[00:41:56] Autonomous trucks and control.
[00:45:31] The future of trucking.
[00:47:35] State governments forcing truck driving.
[00:50:24] Trucking company benefits.
[00:53:22] Carrier options for truckers.
[00:57:42] Changing the trucking industry.
[01:00:00] Driver's worth and rebellion.
[01:06:19] Trucking companies and health.
[01:08:48] Health and Productivity in Trucking.
[01:11:43] Work-life balance for truckers.
[01:14:44] Driver turnover and wages.
[01:18:35] Staying Fit on the Road.
[01:21:23] Truck parking as a growing issue.
[01:23:46] Truck parking and safety.
[01:26:48] Eastern European crime syndicates.
[01:29:46] Control of the supply chain.
[01:33:01] Solutions for CDL drivers.
[01:35:49] Complex problems require complex solutions.
---------------------------------------------

THANK YOU TO OUR SPONSORS!

At SPI Logistics they have industry-leading technology, systems, and back-office support to help you succeed. Learn more about SPI's freight agent program here. Make sure to let them know we sent you!


Digital Dispatch helps you speak confidently about ROI with a website built for your customers, prospects, and employees. With plans starting as low as $90/month, learn how you can take your website from good to great by visiting Digital Dispatch.
---------------------------------------------

ABOUT THE PODCAST:

Everything is Logistics is a podcast for the thinkers in freight. Follow the podcast to never miss an episode.

Follow EIL host Blythe Brumleve on social: Twitter | LinkedIn | Instagram | TikTok | YouTube