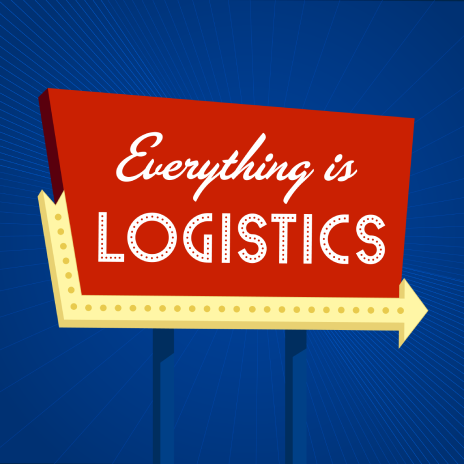 In this episode of "Everything is Logistics," host Blythe Brumleve interviews Joe Oliaro, VP of Sales and Chief Real Estate Officer at Wagner Logistics, about the state of warehousing.
Oliaro outlines his company's history and growth, which has been primarily focused on contract logistics in support of manufacturing groups, as well as their current size and expansion plans. The conversation covers topics such as technology in warehousing, labor shortages, and the impact of e-commerce on the industry.
LINKS:
WHAT YOU'LL LEARN:

The listener will learn about the increased demand for warehouse space due to e-commerce and just-in-time inventory depletion during the pandemic, the current state of industrial warehouse space availability in the US, the challenges of building warehouses to meet incoming demand, the shift in the industrial market properties in Arizona towards heated and cooled warehouses, the challenges of recruiting and retaining warehouse employees, the benefits of shared warehouse space and equipment, the role of Wagner in providing logistics management services for warehouse and distribution operations, and the importance of having a strong real estate partner.
TIMESTAMPS: 
[00:01:30] Wagner Logistics' history and growth.
[00:04:09] Supply chain challenges during pandemic.
[00:08:12] Industrial real estate trends.
[00:13:27] Abandoned properties for manufacturing.
[00:19:25] Warehouse work has changed.
[00:20:25] E-commerce industry turnover.
[00:24:22] Automation in manufacturing.
[00:28:24] Rail as a strong selling point.
[00:34:19] Real estate challenges for warehousing.
[00:36:45] Real estate value and research.
———————————————
THANK YOU TO OUR SPONSORS!
At SPI Logistics they have industry-leading technology, systems, and back-office support to help you succeed. Learn more about SPI's freight agent program here. Make sure to let them know we sent you!
Digital Dispatch helps you speak confidently about ROI with a website built for your customers, prospects, and employees. With plans starting as low as $90/month, learn how you can take your website from good to great by visiting Digital Dispatch.
———————————————

ABOUT THE PODCAST:

Everything is Logistics is a podcast for the thinkers in freight. Subscribe to our newsletter to never miss an episode.
Follow EIL host Blythe Brumleve on social: Twitter | LinkedIn| Instagram| TikTok| YouTube